ICOM 2200H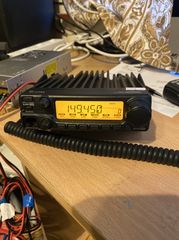 Purchased 2nd hand from Lindars, this is my current 'goto' radio as of Feb 2020. Mostly because it is so easy to operate and there is plenty of activity in QTH to listen into.
I bought the radio at a great price, in really good condition, it was very well packed by Lindars, whom I have used for other radios as well. Whilst the microphone took some learning, taking my time with the documentation and youtube videos really helped me get this setup, in particuar for accessing repeaters and simplex gateways that require sub-audiuable tones. I may put in the digital chip in the future, but at the moment i get enough QSO's on the local repeaters not to need it, but DSTAR would be an awesome service to use.
The 2200H is FM/AM wide/narrowband transceiver on the 2M frequency. I switch between scanning the whole band for activity, to listening to my local repeater MB7IFD, which is a Gateway into Echolink and DSTAR, hence I get alot of QSO's from around the world on 2 meters !
I have been lucky enough to make direct contact on the simplex channels with locals in/around Bournemouth, as such the furthest I've had a clear QSO with is in Christchurch, which given my location, antenna and power (10W) I'm really happy with !
Overall, I'm really happy with the 2200H, its easy to use, setup and works well with my antenna.