So I have been using Wefax for getting fax weather transmissions. I really enjoy them and also find it useful in seeing how much QRM I am getting on the 'wire' so to speak. Recently a gentleman on youtube by the name of "Tech Minds" published this excellent video
Now I loved the instructions on this video and it has been something I've wanted to do. I asked "Tech Minds" if i could put the V-Pole adjacent to a 2m/70cm vertical, to which he said yes, so i was then on a mission to build my V-Dipole.
Parts list
PondKraft Rigid Plastic Filter Outlet Pipe 50mm – 1 Metre – Used for attaching Vpole to Mast – £ 6.49
Silverline 868823 Coaxial Cable Stripper – Needed an upgrading in stripping, £5.79
10 Pcs RC Airplane Model Part Stainless Steel Round Rods 3mm x 150mm, for the dipole, £3.78
PremiumX mast base galvanized steel 20-60mm diameter, for clamping the assembly to the mast, £4.45
As i have a number of projects going on, I ordered another reel of coax as well, but think I would of had enough with my existing coax.
Heres what i used
RG-8 Mini Coax Cable 50Ohm Military Spec 50Metre Drum, For connecting dipole to electrical block connectors, £34.96
I already had decent electrical terminator blocks, so didnt need to order those.
I followed the instructions and set about mounting the antenna on the mast – i have to say i found this quite challenging on my own on how to attach the pvc pole to the mast, but sure enough, and with a few 'oh dear' (swearing may of been harsher) on dropping nuts/clamps i got it attached.
I then fed the coax from the mast back into the 'shack' where I put a PL-259 socket on .
I do love this video, and the guys no nonese approach
With that i put the antenna via a PL-259 – SO-239 to SMA cable attached it to the RTL SDR Dongle.
Sure enough, i could pick up radio sounds no problem, so all the effort was worth it !
I then set about installing all the necessary software on my HAM computer, following yet another excellent tutorial from Tech Minds
I initally tried with the HackRF, but for some reason it wasnt playing ball. Ironically as I knew that a sat should be overhead, i hooked up my other SDR to a basic scanner antenna, and i could hear the sat overhead ! Immediatly i set about setting up my mac for the receiver.
On the mac I used gqrx. The satellite track software is avaiable via macports, but i couldnt find a stable 64 bit version of translation software so used noaa-apt, which whilst not as feature rich, works incredbly well on a mac, as in being actively developed.
I tested with a 'sample' NOAA recording, and that produced the required map output ! iwas all set.
I waited patiently for the sats come and tracking and sure enough within an hour i had my first sat pass over ! Whilst the intial result wasnt amazing, it at least proved that antenna, SDR and decoder worked.

I then looked for future NOAA passes and a good candiate for going directly over was on for 6pm, so i waited and recorded, sure enough, i got a signal and a decode, and whilst the results arent amazing, its a good start in my book.

As it was some time before the next pass i set about doing some fettling on the antenna, and found i hadnt got it North-South Aligned that well, so i rotated the antenna and made sure that all the connections were in good form after a full day up in the air.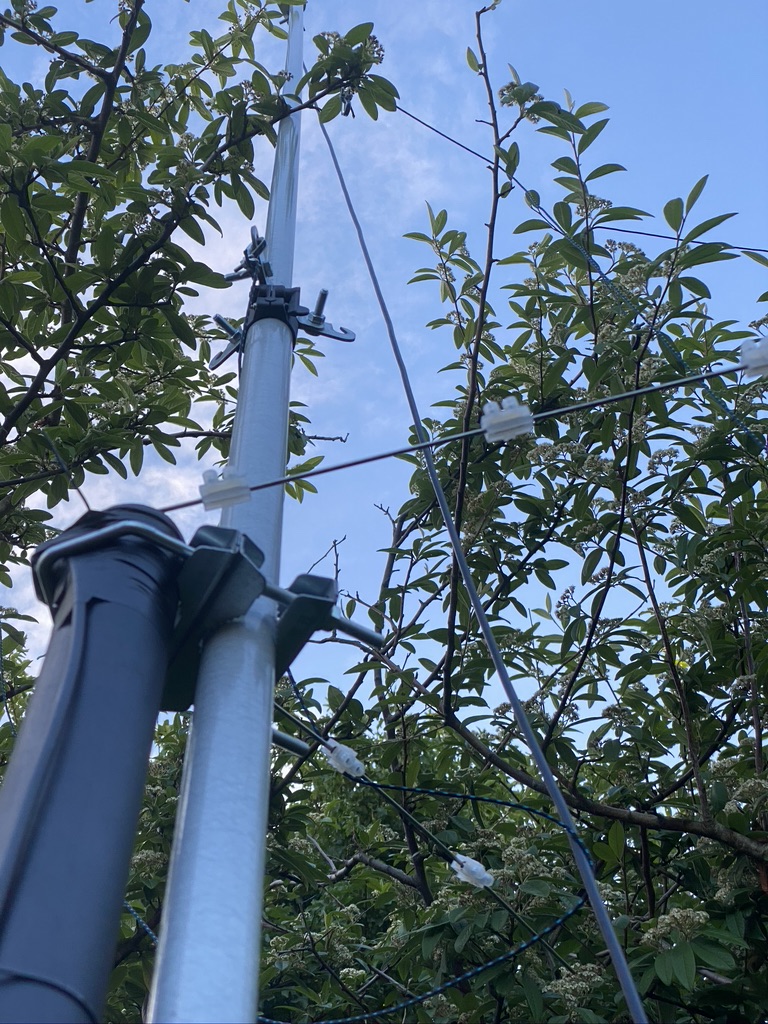 I've not really done a write up of just how good the mast is I use for VHF/UHF, but you can see in the pictures below how high quality it is. All the stages are locking and push up/down without problem, even after rain, they is no fricion on the joints. The locking mechanisim is tough, but gives real confidence the pole isnt going to slip down. I use a 'light' guying system as i've only got 2 very light weight antennas on the mast (the 2m/70cm and now the NOAA) – any more would be overkill. The guy ropes and ground stakes are incredbly strong and go into the ground some 2ft at a guesstimate, the antenna only ever comes down for the worst weather forecasts.
If you want to invest in a good mast system i can really recommend these
https://www.radioworld.co.uk/tfm-40-2_watson_12_2m_40ft_telescopic_fibre_glass_mast_8x5ft_s
https://www.radioworld.co.uk/complete-guy-kit-light-weight
https://www.radioworld.co.uk/9888_3_hook_guy_wire_clamp_non_rotating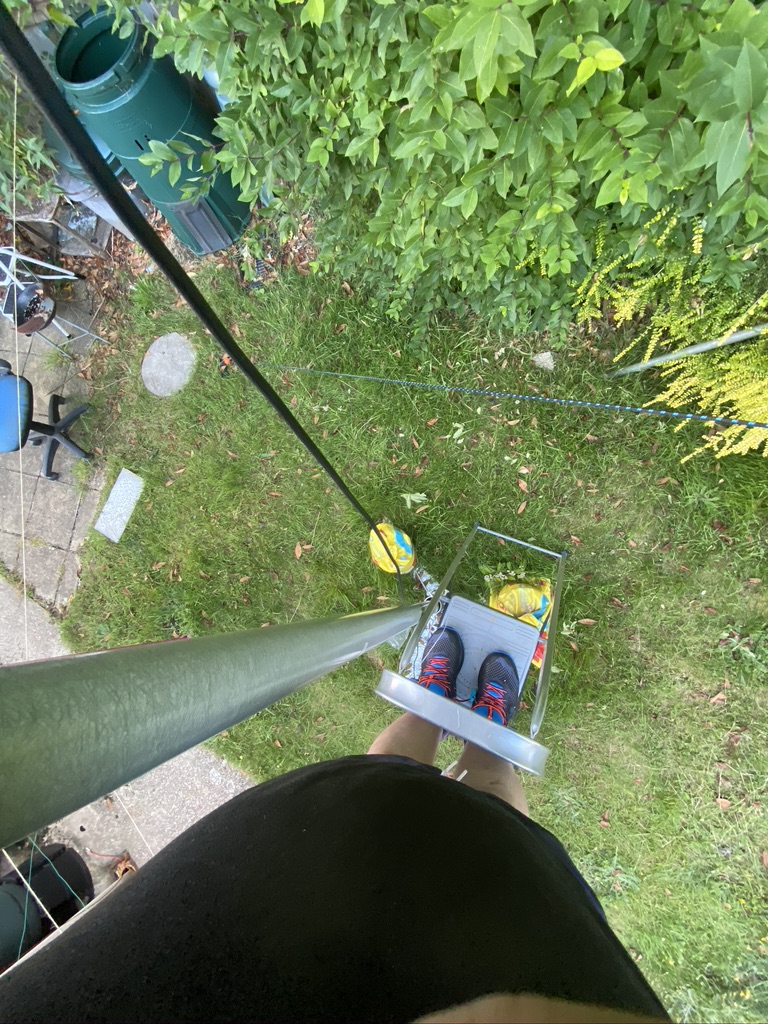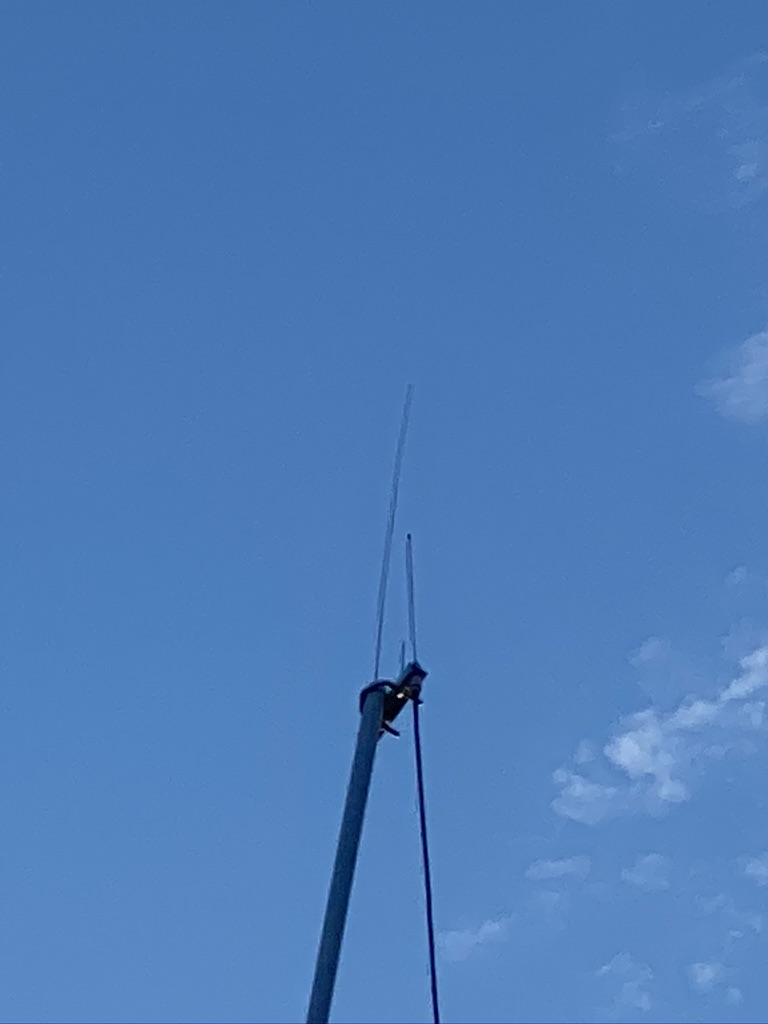 With the antenna back up I now wait for the next good pass to try out how good the scan comes out. Its very exciting (for me) and thanks again to Tech Minds YouTube channel who puts really great content !
I'll upload my pics to my STOATOPIC account as I get more decodes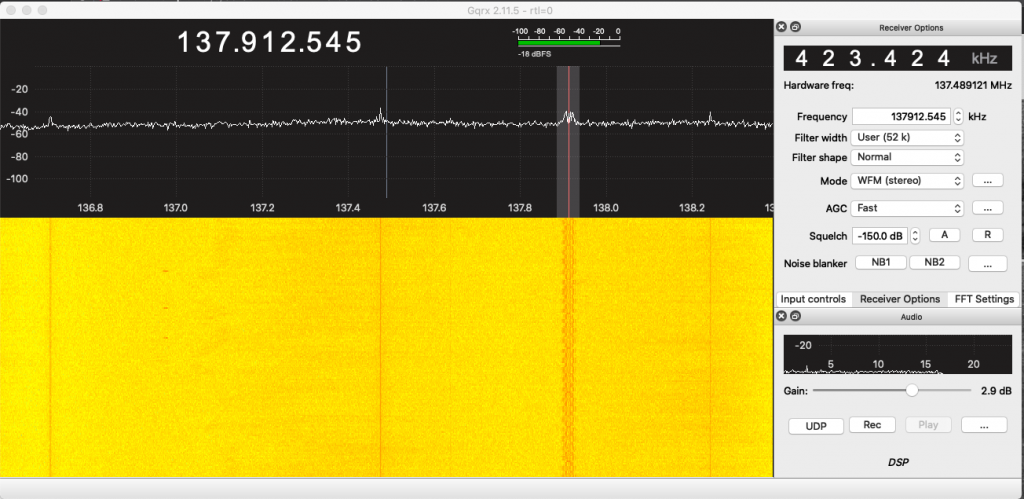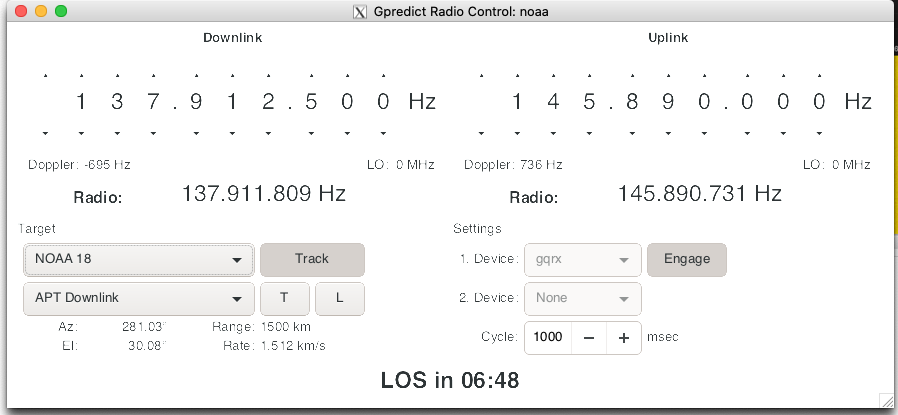 Tracking pattern