It has been fantastic weather for December down here in IO90. With my son visiting for Christmas it was the perfect opportunity to make some real progress on the tilt-base for the Nebula.
I started out in the morning by building the workbench that had come from Amazon. At £28.99 i wasnt expect high-quality and i was pleasently suprised at how nice this was. Construction was fiddly, but nethertheless straightforward. Overall, if you want a cheap workbench, you can probably do ok with the Wolf.
Once the workbench was assembled, Paul and I started getting things safely setup outside. I have never used this type of saw before, and i said to Paul to shoutout STOP if he saw me doing anything dangerous/or could go wrong, thankfully it went really well ! The Circular Saw I used is the Katsu 100793. It cost £43.99 and comes with another wood-cutting blade. The instructions were simple, yet useful and reassured me of being able to use the tool safely, having never used one before. Overall I can recommend this a tool you are going to use on on occasion – one niggle is that it really does need a better protective box, as i've kept the original but that will only provide limited protection.
To keep the wood secure on the round table we have, I used Irwin Quick grips – these cost £16.99 but really done a good job in holding the wood tightly in place. Operation is easy enough after the first time of use, and getting things clamped becomes very familiar quickly. Overall I can recommend them as well !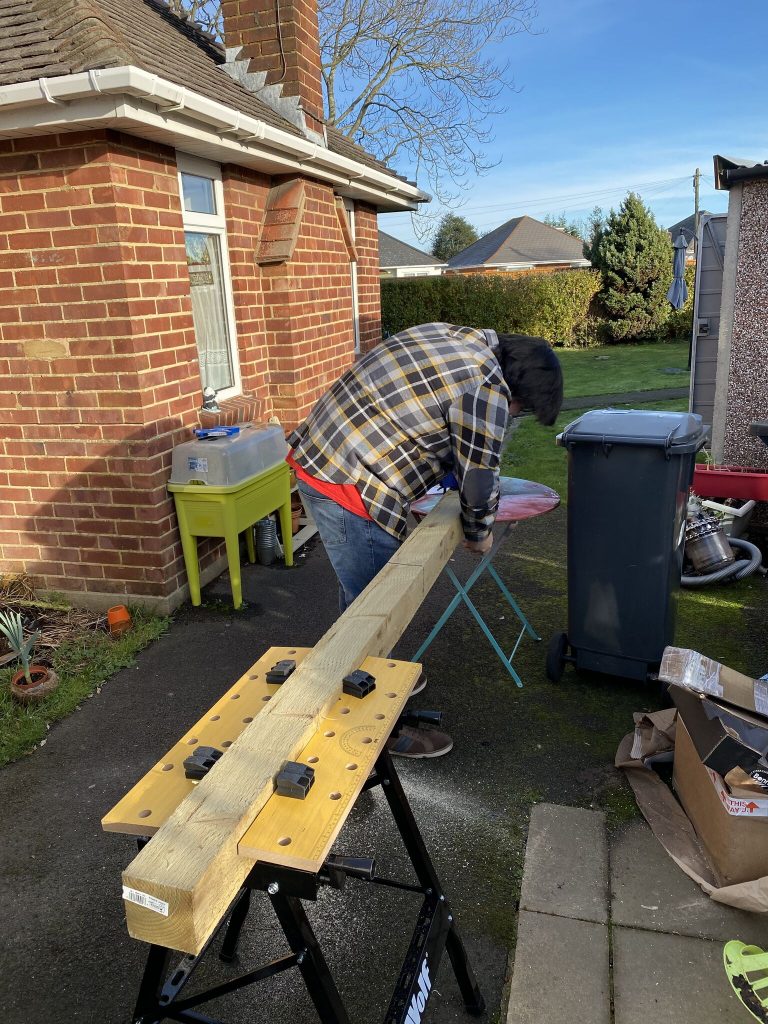 I then set about drilling the hole for the steel bolt to go thru. I already have a good Bosch SDS drill (altough i'd love a Makita like callums !) i just needed to order the required SDS wood drill bits. I chose the Yato YT-3300 drill bits. These come in a really nice presentation pack as well, and made easy work of drilling the hole for the bolt to go thru. I measured an inch from the top and mid-way on poles.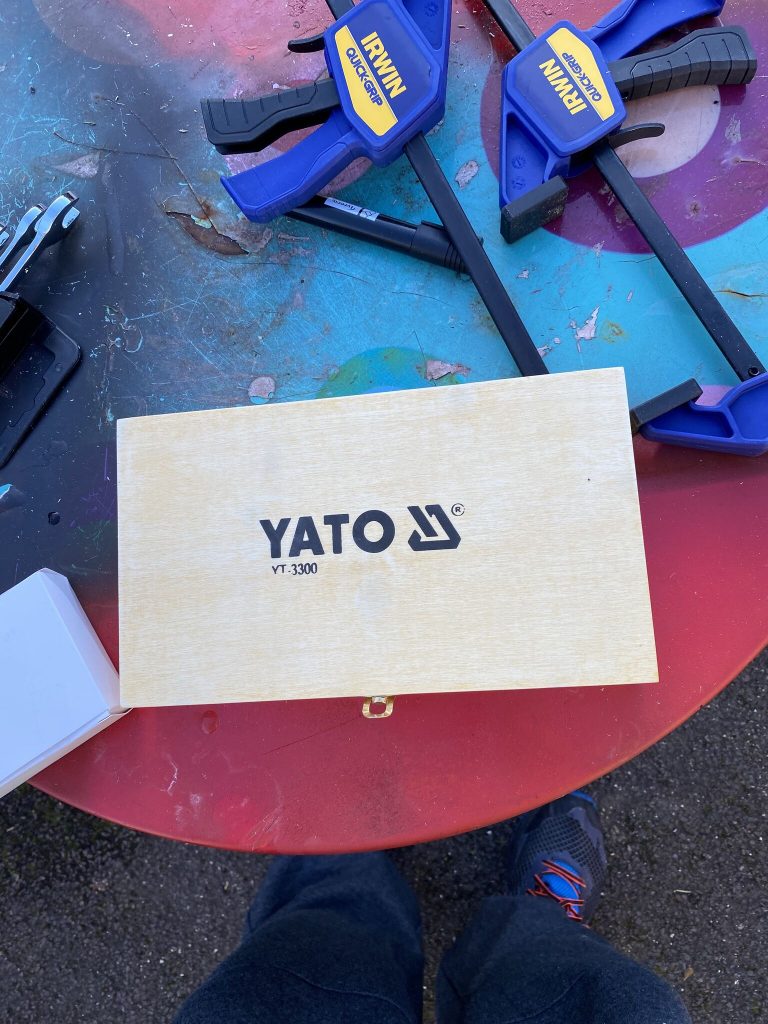 The next step was to use an old bit of scaffold i had lying around – i got this off the builders who were erecting my neighbours buildings in his back garden. £10 well spent. This involved another first as I've never cut tubing before, i've ground things down (usually flat surfaces) but never cut a tube. I already had an angle grider so put on my protective goggles and tried to see what i could do with the angle grinder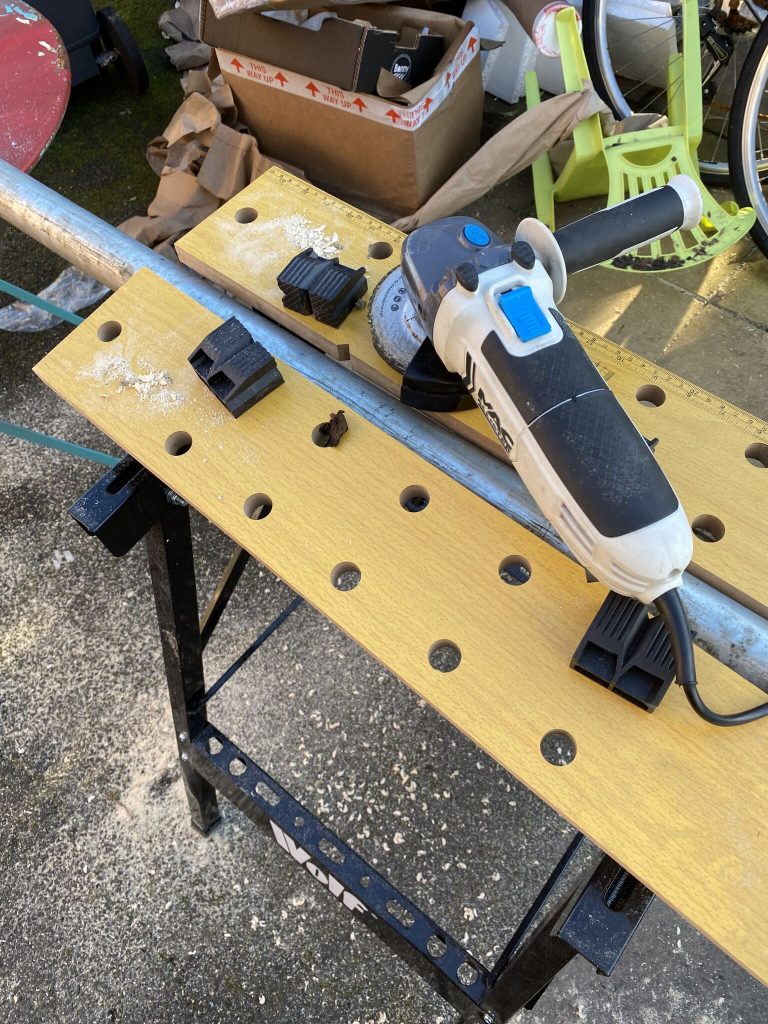 Having cut the scaffold pole, the next step is to put the bolt-hole in it. I thought i had some SDS metal bits, but all the ones I have are for plaster-board. A quick trip to Amazon found LATERN 10Pcs Tungsten bits. At £9.99 the price is good for the amount of bits and I'll only be using these occasionally. As I was getting a little tired and by now it was about 2PM, thought it best to tidy up and put everything away. I'm really happy that my son and I could work on this together and the bulk of the 'heavy cutting' is done, plus I've increased my confidience in using power tools I've never used before !
Weather is not looking so great tomorrow/monday, so it might be next week/weekend for drrilling the hole in the pole but will see how I'm doing.