With my shack getting some actual usage of late, as well as the G4PRS 2M call on Monday nights, it felt like a good time to tidy things up. I'd not been particualy happy with the layout of the radios in the window, in particular it was susceptiable to any rain/water ingress. With that I orderd a budget 3 tier book shelf, having measured the dimensions, it was a nice foot print and my radios should all fit…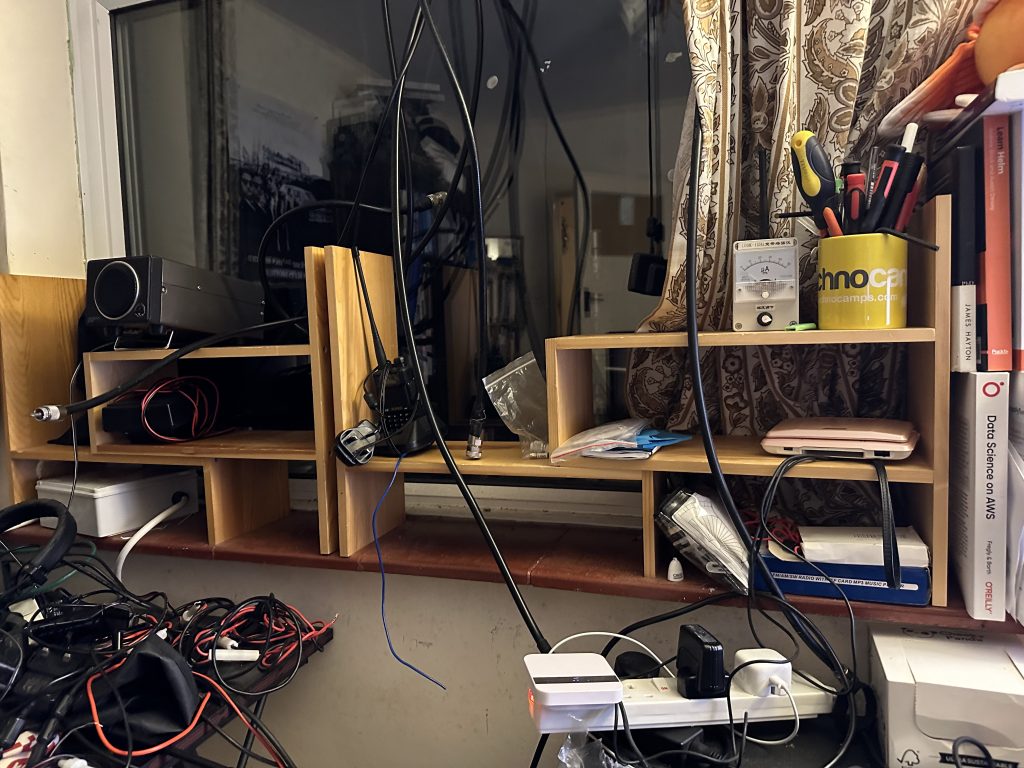 Having move the radios from the shelving, I then set about putting them in-situ to see how it worked out – i wasnt 100% sure where I was going to put the book-case radio shack, but the corner seemed a good idea, and put the Apple iPad that was there back into the Alex Loop pack ready for my next /P or /M use. The position worked well, but there was a clear issue of routing power and coax to the radios, so Ihad to do some 'DIY' on the shelves. Here goes my warranty…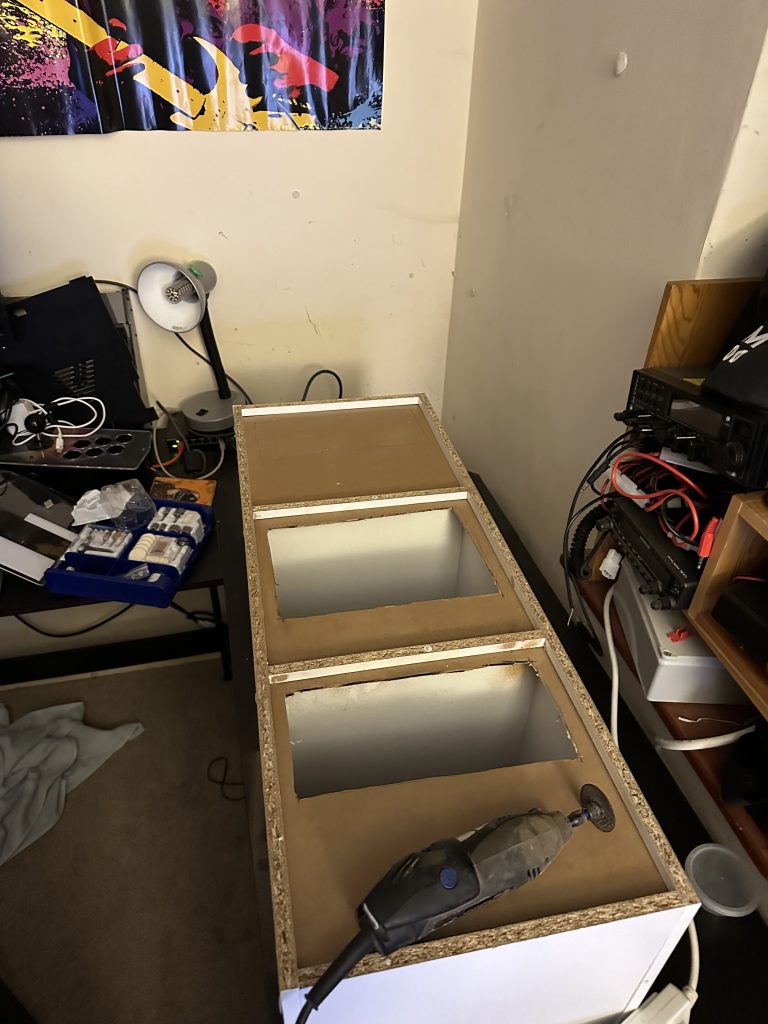 The cheapness of the bookcase meant the back-walls of the compatments didnt present much work for the dremel, if it was earlier in the day, I would of done this outside tho, it generate a fair amount of dust and smoke, but I kept the windows wide open and also took my time with each section. I didnt need 'perfectly square' holes, just enough so that I can route the coax and other cables thru, and as can be seen in the last photo, this worked out pretty well !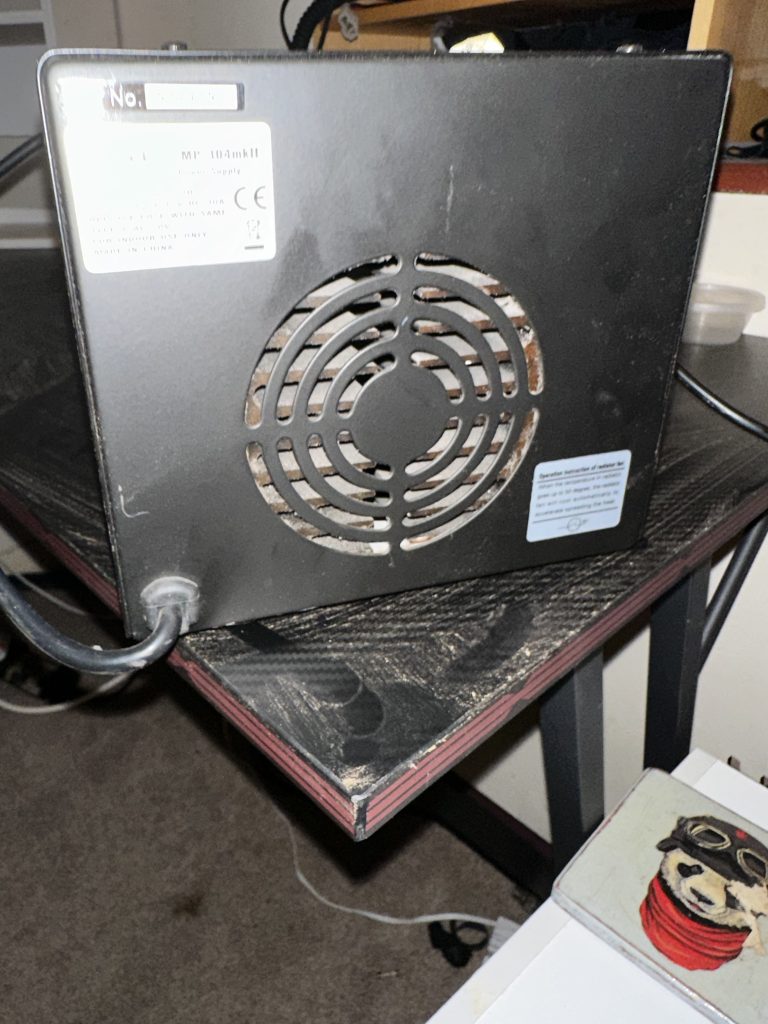 The main transformer now had a nice clearance for its rather noisey fan (my only complain of this transformer, its otherwise done an excellent job) then can start placing the radios in place. I started with my 11m CB+manual antenna matcher, this went in easily enough, and then I placed the Kenwood TH-V71E on top of that. I put all the necessary data/audio cables in place in case I choose to use them, but I'm going to be using this as my main 2m/70cms rig. At the moment its using the Diamond X-9000 which has excellent gain on the 2m and 70cm bands. I am looking forward to trying it out on the G4PRS net on Monday night.
I fed in the very chunky cables for the IC9700. Currently I am running a very simple setup, with no mast head amplifier and direct to the satellite egg-beater antennas. This should become a single feed with a splitter both ends once I put the mast-head amp in place.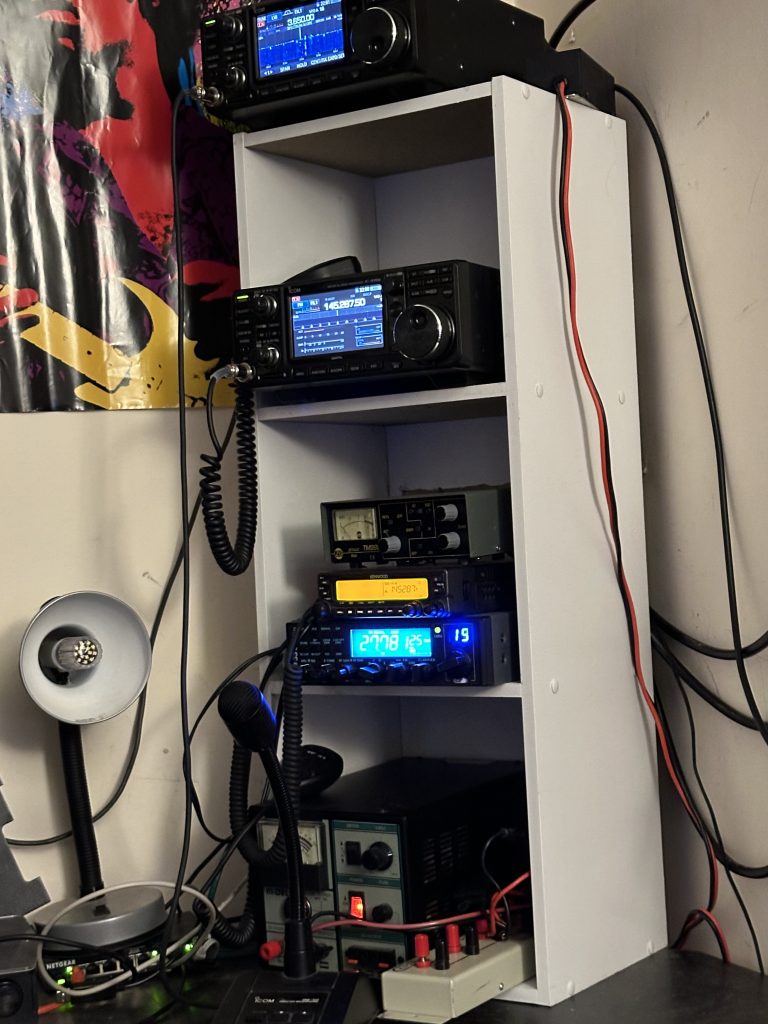 With the radios all connected and the basic setup up and running, I then set about using the IC9700 for what it was really designed, operating satellites. Luck would have it that the ISS would be passing over, not a particularly high elevantion at 22 degrees, but worth a try. I waited for an hour and was pleased to hear QSO's from all over europe going into and out of the ISS repeater. I manually controlled the doppler, but there was no need to rotate the yagis liked what I used to have to do. First impressions of the non-amplified eggbeaters is very encouraging and I look forward to continue to setup the annteas and systems in the coming weeks.