Its been quite some time since I've had the Alexloop Hampack, and with my QRP, /M and /P work becoming more 'regular' (at least one per month) – thought it time to share my views of this antenna system.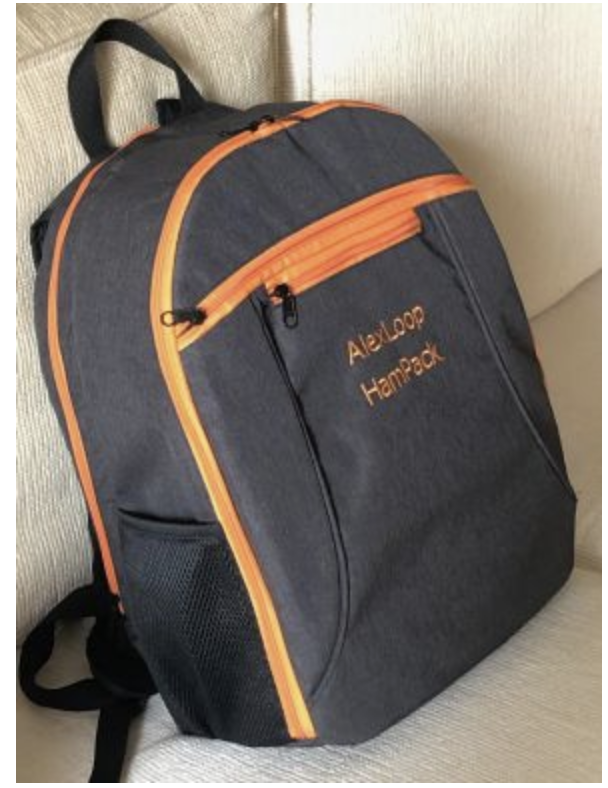 Its hard to imaging, but its been just shy (April 2021) that I have had this antenna in my collection. This has given me plenty of opportunity to use it out in the field and for experimentation at home.
I bought this antenna to pair with the Icom IC705, which is undoubtedly an excellent transceiver in its own right – with excellent selectivity and filtering, its a question of putting the right antenna onto it.
The Alexloop Hampack – the good
Lets start what is good about the Alexloop Hampack. All these observations are based on my own usage, so whilst not scientific, they are at least practical and proven.
The Alexloop HamPack is very easy to setup. I can arrive at my operating destination and be on the air in minutes. There is no setting up a mast and throwing a wire, there is no tuning a vertical and getting the SWR 1:1 – i can get this antenna out the bag, onto a stand and tuned into the frequency I want to use very quickly. The LED showing the output might look a gimmick, but I can assure you I use this as a visual reference and then checking the radio's SWR every time I setup or need to retune the antenna.
Now for some this might be a negative, but so far for me its been a positive. When I'm working /M or /P, I am limited to 10W. What I don't want is to pick up every other station just slightlyoff frequency, and for sure, the AlexLoop gives me that. I can match my IC705 filters to the AlexLoop and get excellent input.
Its designed for and good at portable use
The AlexLoop Hampack bag is very well thought out. It comes with a excellent way of storing the main loop and then the tuner and other parts of the transceiver. I also own ICOM's LC-192, which is an exemplary piece of portable radio design, however, even thou when I operate /M, I want to reduce the amount of baggage that I take, therefore I stick to using the Alexloop Hampack bag on its own, and regretfully the LC-192 is left at home ! With that, you can be sure if you *dont* have an LC-192 and are considering getting the Alexloop Hampack, the bag will suffice. It is not as good as the LC-192, in terms of access ports, padding and having a full functional HF/VHF/UHF transceiver system on your back, but for HF bands, the Alexloop Hampack bag *will get you on the air*
The bad
It almost goes without saying, the biggest 'bad' of the Alexloop Hampack is the price tag. When I bought mine in April of 2021 it was £505, now an Alexloop Hampack will cost you up of £600. That is allot of money for an antenna and it really needs to justify its cost.
As I've said above, I found using the antenna in the field for QRP /P and /M incredibly good. However, not everyone is running an IC705, there are many /P or /M operators that have good transceivers that can push out 100W. The Alexloop is not designed for, and should never be used for values above 20W on SSB and 10W on Digital modes. If you have perfectly good transceiver already capable of powers above these, then is the AlexLoop Hampack the right antenna for you – I would say probably not, especially if you already own the transceiver, however, if you are designing a /P or /M solution from scratch, my answer would differ…
So is there anything ugly about a so well designed antenna. Well, I for one can say there is. When I received this antenna I found assembling it 'awkward' – that is getting the loop over the centre pole. This resulted in a nasty 'nic' getting into the loop coax.
I could easily accept this on a 'cheap' antenna with no instruction, but of an antenna, that at the time cost me £500+, I really was perturbed why a decent instructional video or document was available on how to set this antenna up. Furthermore, show how the selectivity worked would of been a benefit to a first time 'loop' user. Hindsite is 20/20, but when you pay allot you should really get that level of service included, not as an add-on.
Being an IC705 user, I found the Transceiver bag in the Alexoop Hampack to be oversized, compared to the afore mentioned LC-192, its padding/packaging for carrying a transceiver was really not as good as Icom's own product. To me, this was scrimping on cost, rather than any other reason (i.e. a transceiver would fit in the bag) – and at the price-tag, was a little disappointing.
Summary / Recommendations
So its been nearly 2 years since I've had this antenna, I have at least 2 other antennas I can use with the IC-705 when working portable or mobile, and have the actual ICOM bag for the IC705, so what are my personal oonionsf the Alex Loop Ham Pack.
I am person that is time-poor, that is for me to go /P or /M requires planning and organisation, its not like I can just grab my radio and go out when I like, I'm busy. With that the Alex Loop Ham Pack always ensures that when I go out, I will get on the air – its easy to setup and I can make contacts as soon as the antenna and transceiver are matched. I don't need to setup a mast, wire and ATU for an antenna, the Alex Loop Ham Pack does that for me with its simple and effective compact solution.
The biggest issue to me is the price, today (Jan 2023) it would cost me £600+ to get this antenna. That is a serious amount of money and given it is only capable of 20W maximum, is it the best antenna for the price ? I would say not, that a good dipole, end fed or vertical will outperform this antenna, but would it be as compact, easy and portable ? Probably not.
If you today you don't have a QRP solution, you really cant go wrong with an IC705 and the Alexloop Hampack antenna, but then you are looking at a solution that is going to cost upward of £2000, to which you can get on the air with a QRP rig and antenna for £100-150 using a ubitx and simple dipole/end fed solution.
There is going to be a big difference in performance of the radios and antennas, and cost might be your personal motivation, where as quality/time maybe the secondary consideration.
Eitherway, the most important thing is to find the best solution you can afford, starting with the antennas as part of the solution, not the secondary, and getting outdoors and on the air.